The Friday 56 is a weekly meme hosted by Freda's Voice. The goal is to post a couple sentences from page 56 or 56% of whatever book you're reading and leave a link back on the site.
My 56  is from The Inquisition (The Summoner 2) – Taran Matharu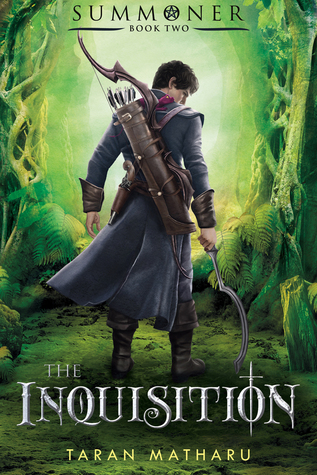 Synopsis: A year has passed since the Tournament.
Fletcher and Ignatius have been locked away in Pelt's dungeons, but now they must face a trial at the hands of the Inquisition, a powerful institution controlled by those who would delight in Fletcher's downfall.
The trial is haunted by ghosts from the past with shocking revelations about Fletcher's origins, but he has little time to dwell on them; the graduating students of Vocans are to be sent deep into the orc jungles to complete a dangerous mission for the king and his council. If they fail, the orcish armies will rise to power beyond anything the Empire has ever seen.
With loyal friends Othello and Sylva by his side, Fletcher must battle his way to the heart of Orcdom and save Hominum from destruction…or die trying
———————————————
'…Though I know Inquisitor Rook is keen to suggest the more traditional death by way of hanging, drawing and quartering. Perhaps fortunately for the accused, the method of execution shall be decided by the jury.' Fletcher saw Othello's clenched fists, and he gave Fletcher a wide-eyed look. It was a terrible death, one that did not bear thinking about. Fletcher changed his mind. Imprisonment didn't seem so bad after all.